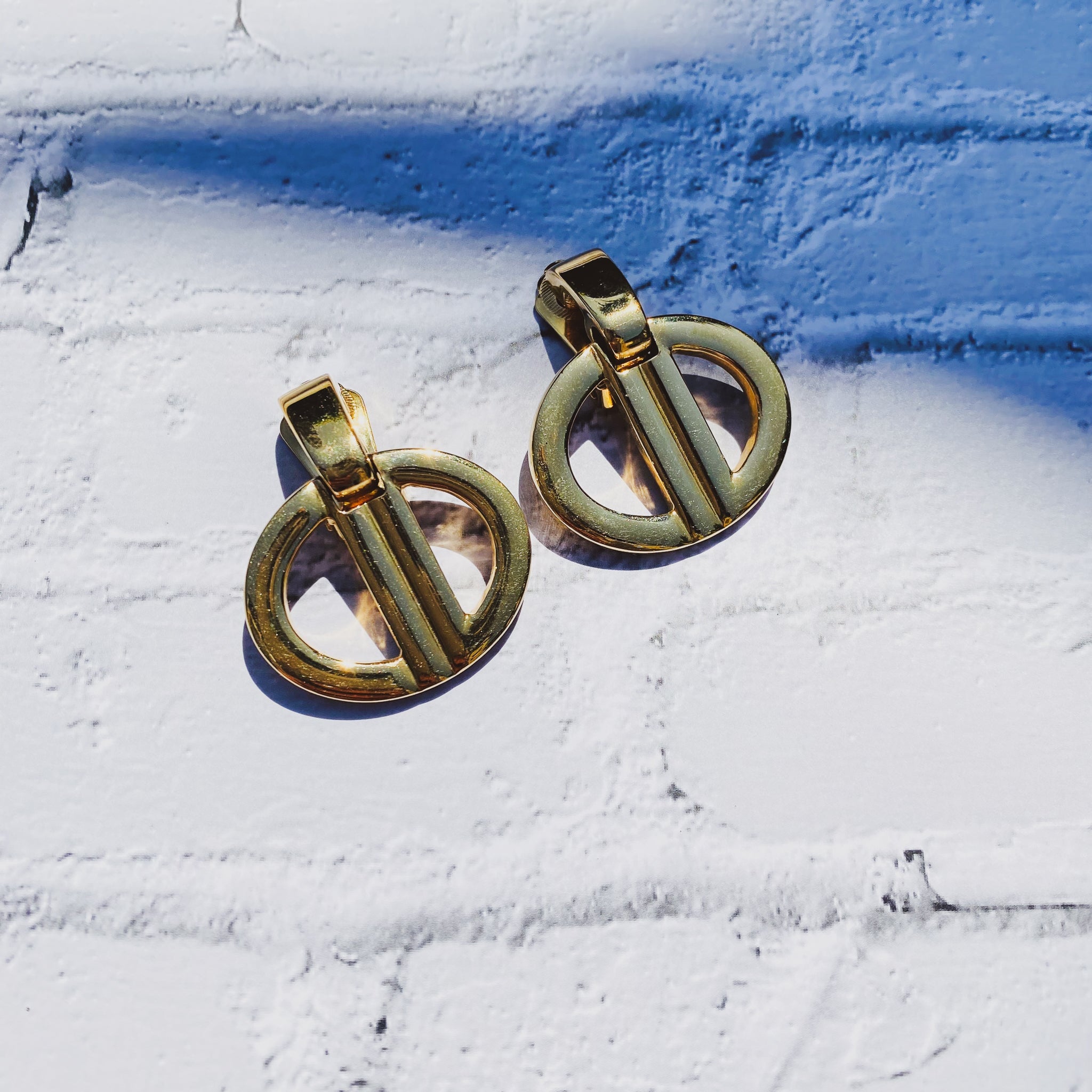 Vintage Christian Dior Earrings Clip On 1980s
Description
Care Instructions
Shipping
About Us
Get ready to fall in love with these divine Christian Dior clip-on earrings from the glorious 1980s. Step  back into a time when bold jewellery was the ultimate symbol of sophistication.
These earrings aren't just accessories; they're little pieces of fashion history. Crafted from high-quality gold-plated metal, with an incredible attention to detail that's unmistakably Dior,  And did we mention they're made in Germany, a country renowned for its premium craftsmanship?
Christian Dior changed the game in the 1940s with his iconic 'New Look', breathing new life into women's fashion with his glamorous designs. Today, that legacy lives on in pieces like these earrings, each one reflecting Dior's timeless aesthetic and enduring philosophy of discerning elegance.


Size & Fit
These beauties measure 4cm in length with a diameter of 3cm — perfect for making a subtle yet striking statement.


Authenticity & Condition
These earrings are in excellent condition and proudly bear the Christian Dior stamp. We guarantee that all our pieces are 100% authentic. They've been meticulously examined and authenticated by experts who share our passion for vintage costume jewellery and fashion.
Get ready to immerse yourself in the dazzling world of Jagged Metal, where vintage jewellery reigns supreme. Our curated collection of exquisite pieces is handpicked with care, ensuring that each item is something we would proudly wear ourselves.
What sets vintage jewellery apart? It's the narrative every piece carries, the unique patina that speaks of its rich history. When you choose vintage, you're not just acquiring a fashion statement; you're acquiring a tangible piece of a bygone era , infused with the character and story of its previous owner - and you are it's next chapter.
Those little quirks and flaws are what make vintage pieces truly extraordinary and charming. We always ensure our pieces are in great condition, and our detailed photography leaves no surprises, allowing you to have a clear understanding of each item before making a purchase.
Join us on this exquisite journey, where every piece tells a captivating story. For more information or inquiries, reach out to us at hello@jaggedmetal.com.


Product code: 22.EP




Discounted Shipping & Easy Returns
We offer discounted worldwide insured shipping and free Special Delivery postage in the UK on all items over £50. We want you to be really happy and offer a no quibble returns policy. Just return the item back in the same condition it was sent with security tags intact within 14 days. Please email us for details on how to return.
If you are purchasing as a gift and would like a personal note to be added then please email us - hello@jaggedmetal.com
PLEASE NOTE - Customers are responsible for customs charges issued in their own country as these fees are set by each individual country.
RARE EVERYDAY
Jagged Metal embodies the bold spirit of 70s-90s and Y2K fashion, offering a contemporary and collectible collection of iconic vintage pieces from fashion's most collectable decades.We source vintage jewellery from all over the world, finding lesser known treasures and pieces from the world's most desirable fashion houses - Chanel, Dior, Givenchy, Celine and Gucci to name but a few.Curated with modern style in mind, our pieces are guaranteed a glittering past and a bright future in your life
Vintage Christian Dior Earrings Clip On 1980s